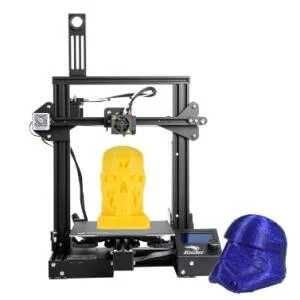 176,48€ 189,99€
Creality Ender 3 Pro 3D-Drucker (Versand aus Deutschland)
TomTop verkauft gerade den 3D-Drucker Creality Ender 3 Pro für 176,48€ mit code TTGGR inkl. Versand aus einem entsprechenden Lager, andere Händler nehmen dafür auf eBay mindestens 229€.Ich habe ehrlicherweise wenig Ahnung von der Materie, habe mir aber inzwischen dank Feedback in vergangenen Deals zumindest gemerkt, dass die Ender-Modelle oftmals als Preis-Leistungs-Tipp empfohlen werden.Einen Vergleich der verschiedenen Varianten des Druckers findet ihr bei All3DP. Hier die Kurzfassung, was sich beim Pro-Modell gegenüber das Basis-Version geändert hat:
stabilere Alu-Schienen auf der Y-Achse (ermöglicht höhere Druckqualität)
bessere Führungsrollen (leiseres und flüssigeres Arbeiten)
neuer "MK-10"-Extruder (soll Verstopfungen verhindern)
Lüfter an der Unterseite (weniger schmutzanfällig)
neues C-MAG-Druckbett (magnetisch, abnehmbar und biegsam)
Da sich einige YouTube-Kanäle quasi hauptberuflich mit solchen Teilen beschäftigen, habe ich mal ein recht häufig geklicktes Video herausgesucht, welches auch auf Modifikationen eingeht:
Features:
Creality Ender 3 Pro is a DIY kit, with 12 installation steps, easy to assemble, multiple tools to choose from, let users experience more printing fun.
Extruder was updated to a more advanced version: MK10, this change will "greatly reduce the risk of clogging and uneven extrusion".
The Nozzle of Creality Ender 3 Pro max temperature up to 255℃, hotbed max temperature up to 110℃, hotbed can reach 110℃ in about 5 minutes, that can meet the need of rapid heating and printing.
Creality Ender 3 Pro adopts a new type of soft magnetic sticker, which makes it easier to remove the model and solve the problem of warped printing edges.
CNC machining the y-axis mounting groove requires only a few steps to accurately position, and the structure is more stable.
The printed model is of good quality, the size of the print is large enough, and the quality of Creality Ender 3 Pro is also very good.
Safely protect the power supply, resume printing function, and resume printing after power is restored.
The maximum printing size is 220*220*250mm / 8.6×8.6×9.8 inches.
Creality Ender 3 Pro supports various 1.75mm printing filaments, such as PLA, ABS, Wood, TPU, gradient color, carbon fiber, etc.
Creality Ender 3 Pro supports Windows XP/Vista/7/8/10, MAC, Linux operating system.
With the free white filament material, the first printing test can be completed in a few minutes, the printed result is also good.
The Creality Ender 3 Pro can print any models you can think of, and it can also print masks and goggles for your family.
Specifications:
Model: Ender-3 Pro
Plug: US/EU/UK/AU(optional)
Frame Material: Aluminum Profile
Power Input: 110/240V, 50/60Hz
Power Output: DC 24V 270W
Printing Method: FDM(Fused Deposition Molding)
Printing Size: 220*220*250mm
Printing Speed: ≤180mm/s,Normal 30-60mm/s
Precision:±0.1mm
Layer Thickness: 0.1-0.4mm
Nozzle Diameter: 0.4mm
Nozzle Number: 1
Heatbed Temperature: ≤110℃
Working Mode: Online or Offline
File Format: STL,obj,amf
Slice Software: Cura, Repetier-Host, Simplify3D
Operating System: Windows XP/Vista/7/8/10, MAC, Linux
Filament: PLA,ABS,Wood,TPU,Gradient color,Carbon fiber,etc
Filament Diameter: 1.75mm
Item Size: 44.0 * 44.0 * 46.5cm / 17.3 * 17.3 * 18.3in
Item Weight: 6.9kg / 15.2lb
Package Size: 59.5 * 49.5 * 16.5cm / 23.4 * 19.5 * 6.5in
Package Weight: 8.9kg / 19.6lb
Package List:
1 * Creality Ender 3 Pro 3D Printer Set