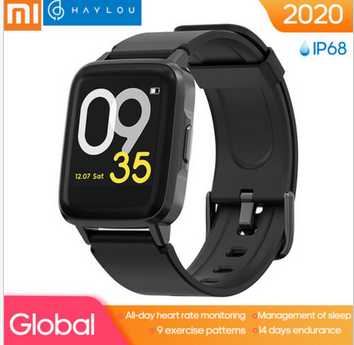 25,68€ 36,61€
Pre-sale! 2019 neue Xiao mi Youpin Haylou Smart Uhr Herz Rate Fitness Tracker IP68
Pre-sale! 2019 neue Xiao mi Youpin Haylou Smart Uhr Herz Rate Fitness Tracker IP68
Ich möchte eine wasserdichte Smartwatch und diese ist jetzt ziemlich billig.
Es ist eine vorverkaufsaktion und gibt nicht an, bis wann es gültig ist, ich habe mir auch die 2na billigsten angeschaut:
36,61 euro @ https://www.aliexpress.com/i/4000267894605.html
Angaben zum Verkäufer cherg (1583 ) 99,1% Positive Bewertungen Angemeldet als gewerblicher Verkäufer
Features: 9 exercise patterns, scientific monitoring of each exercise state, to help you reasonable adjustment of exercise intensity. Real-time heart rate monitoring throughout the day, accurately recording each heartbeat time. Night scientific sleep monitoring, intelligent identification and recording of deep sleep, light sleep, awake state, let you know your sleep quality, help you adjust sleep habits. Intelligent notification: when the phone calls or messages, it will remind you. You lose track of time when you're busy at work, and it will remind you to get up and move and wake up your body in better state. 210mAh large-battery, 14 days battery-life, USB-charging. IP68 waterproof design, allows you to use in rainy day or when wash your hands. 1.3inch wide color gamut high brightness screen, presents a delicate picture. Lightweight design and TPU material band, comfortable to wear. With the use of "Haylou Sport" APP, it can not only present multiple sports data in real time, but also set multiple functions of the watch in the APP, which is easy and convenient to operate.
Specifications: Item type: Intelligent Watch Model: Haylou LS01 Color: Black, silvery(optional) Band width: 26.3mm Display screen: 1.3inch TFT LCD screen Resolution ratio: 240*240 BT connection: BT4.2 Sensor: Dynamic optical heart rate sensor, acceleration sensor Battery-capacity: 210mAh Compatible system: Android 4.4 and above, IOS8.0 and above(The supported features may vary depending on the watch, phone, and country) Waterproof: IP68 Support Language: Russian, German, Japanese, English Operating temperature: -20℃~45℃ Package weight: 130g/4.58ounces Package size: 180*100*100mm/7.08*3.93*3.93inches
Package list: 1 * Watch 1 * Manual