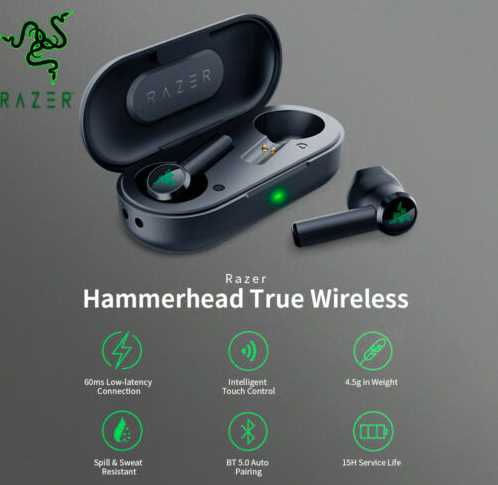 115,99€
Razer Hammerhead Wireless Bluetooth 5.0 In-Ear Kopfhörer Kabellos Stereo Headset
Razer Hammerhead Wireless Bluetooth 5.0 In-Ear Kopfhörer Kabellos Stereo Headset
Gibt es Leute, die diese bereits haben?
Ich möchte sie nur von einem zuverlässigen Lieferanten kaufen (ich sehe, dass dies bei Ebay in Ordnung ist).
die marke ist 40 euro günstiger als die airpods von apple, laut mir die alternative.
Beschreibung:
Package Include:
1 * Earbuds
1 * Charging Case
1 * Charging Cable
2 * Silicone Earbud Sleeves
1 * Strap
Features:
Ultra-Low Latency Connection.
The wireless earbuds have an extremely low 60ms input latency, which means its audio stays synced with your device and will never stutter, providing a competitive gaming advantage and a more immersive experience for videos and music.
Water-Resistant IPX4 Design.
Ideal for those with an active lifestyle, you can work out to your favorite tunes and have the freedom to wear these wireless earbuds during a variety of outdoor activities.
Custom-Tuned 13MM Drivers.
The Razer Hammerhead True Wireless Earbuds have dynamic drivers optimized to provide a quality listening experience, pushing out crisp trebles and mid-range with deep, satisfying bass.
Touch-Enabled & Voice-Assistant Compatible.
Change music tracks, play or pause, manage calls, and activate your smartphone's voice assistant—all from the touch interface on these Bluetooth earbuds.
Bluetooth 5.0 & Auto-pairing.
With its Bluetooth requiring less power, the earbuds can last up to 16 hours with its charging case and automatically connects to its last paired device for easy, fuss-free handling.
Charging Case & Silicone Earbud Sleeves.
A portable charging case keeps the earbuds protected and fully charged when they're not in use, while the silicone sleeves provide a comfortable and secure fit.