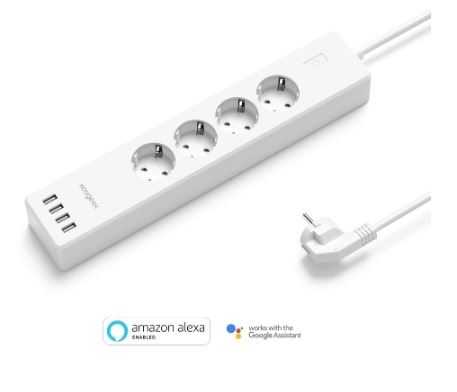 22,11€ 36,99€
Smarte WiFi Steckdosenleiste Alexa Google Home mit USB Koogeek @TomTop
Das ist ja mal Mega. Eine WiFI Steckdosenleiste die per Google Home oder Alexa gesteuert werden kann. Und zwar jeder einzelne Steckplatz (auch USB). TOP bewertet bei Amazon (Link unten)! Flash Sale, aber mit Coupon nochmal günstiger UND es können die vorhandenen Points verwendet werden.
CouponCode: "AKLOE4DE"
Versand kostenfrei, kein Zoll da unter Freibetrag, 15-20 Tage Lieferzeit.
Overview
Koogeek Wi-Fi Enabled Smart Power Strip is a surge protected power strip with 4 AC outlets, 4 USB charging ports and a 5.9ft power cord. Work with the Google Assistant, Alexa and IFTTT. After connecting to a 2.4GHz Wi-Fi network and configuring, the four Wi-Fi enabled power outlets enables you to control connected devices remotely and separately by using the Koogeek Life app, Alexa, or the Google Assistant even when you're not home. What's more, you can create scenes and automations, set timers to meet your various needs.
Features
1. Multi Smart Outlets
Equipped with 4 AC independent control outlets, 4 USB ports and 5.9ft long power cord meet your daily need. Work with Alexa and the Google Assistant. You can control four outlets individually with your voice, but the 4 USB charging ports can only be controlled together.
2. High Efficiency
4 Smart USB charging ports with a max power output of 5V/4.0A. The USB ports can automatically detect your connected devices and deliver the fastest charging speed up to 2.4A per port.
3. Remote Control
Works with Amazon Alexa Echo and Google Home Assistant, control your smart power strip with your voice. Wherever you have internet access you can remotely control multiple connected devices via your smart phone. whether you are at home or not.
4. Personalized Scheduling
Smart Power Strip supports set custom schedules and timers by Koogeek Life app for any connected devices. It will turn on or off automatically as needed. Perfect for electric cooker, fans, air condition, cell phone chargers, lights, coffee maker etc.
5. Multiple Protection
CE, ROSH, certificated. Built with high-quality construction and enhanced circuitry and components. Built-in leakage, overload protection switch, the product supports surge protection, effectively absorbs sudden huge energy and protects connected devices from damage.
6. Simple Setup
Setting up only takes a few minutes, quick and easy. No hub required. When configuring, use the Koogeek Life app to connect your devices to a 2.4GHz Wi-Fi network. After successful configuring, you can easily control the four AC outlets and four USB ports with your smartphone.
Hier ein Video zur ALTEN Version:
https://www.youtube.com/watch?v=1rojGrsw8d8
36,99€ bei Amazon:
https://www.amazon.de/dp/B07GBSD11P/ref=sspa_dk_detail_4?psc=1&pd_rd_i=B07GBSD11P&pf_rd_m=A3JWKAKR8XB7XF&pf_rd_p=00903874-3af0-47e0-8622-ee58087f71cf&pf_rd_r=81NP4ZQG6PCYKP103N03&pd_rd_wg=zuu4O&pf_rd_s=desktop-dp-sims&pf_rd_t=40701&pd_rd_w=cjwYY&pf_rd_i=desktop-dp-sims&pd_rd_r=5c20a8b1-c24b-11e8-aa09-7dab7e91bcea