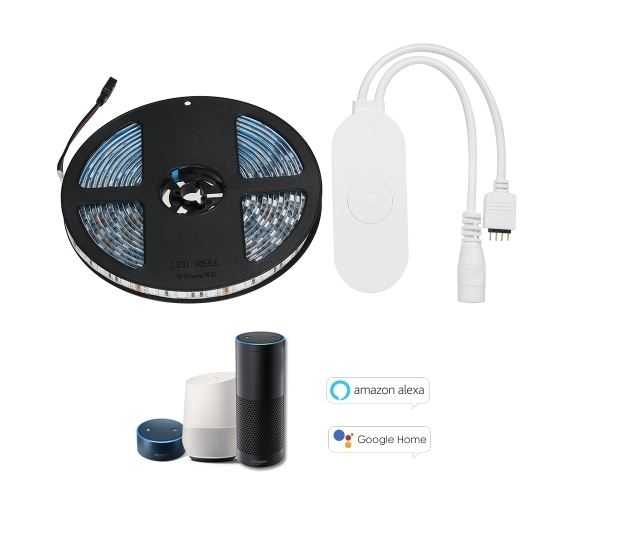 18,02€ 25,00€
5m RGB LED steuerbar mit Google Home/Alexa EU Plug @TomTop
LED Stripe per Alexa oder Google Home anschalten oder Farben wechseln? Dann habt ihr hier das richtige Produkt :).
CouponCode: "STS2170DE"
Versand kostenfrei, kein Zoll da unter Freibetrag, 15-20 Tage LZ.
Features:
*Smart DC Lights Kit: Powered by 5V DC port, the smart rope lighting could work with power bank, HDTV, computer and even car charger. Flexible and Portable. Apart from that, once installed MangoHome into your smart phone or tablets, you can control your RGB strip lights freely anywhere anytime, schedule it to turn on/off at a preset timer.
*16 Million Colors: Free to adjust light colors and brightness, find color and make the light be; you can define colors and save favorite colors.
*Alexa or Google Assistant Voice Control: Compatible with "Amazon echo", Google Assistant for voice control to perform the commands you instruct. (Alexa/Google Home on/off, colors, brightness, and Alexa Setting mode.)
*Light Dancing with Music & Group Control: You can also make the lights lighting with the rhythm of music in your Smart Phone. By using 1 App you can set Groups, control many WIFI light strips at the same time.
*Multiple Scenes Lighting Mode: With 26 built-in dynamic light modes. Heighten atmosphere for festival and family party, home theater, romantic dating: Party lights are no longer simple, the atmosphere is more intense, more interesting and intelligent, now experience how perfect the light is for you.
*Theft-proof Function: You can turn on your home LED strip lights by phone App at night when you're out of home on a business trip or journey, and turn them off after several hours, to create false impression that somebody is at home.
Bei Amazon etc. rund 25€:
https://www.amazon.de/Strip-Arbeitet-Google-Wireless-Gesteuert/dp/B07BLZCPPG/ref=sr_1_3?ie=UTF8&qid=1528792656&sr=8-3&keywords=5m+LED+RGB+Alexa