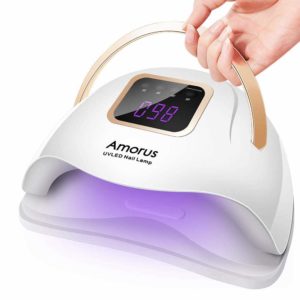 15,49€ 30,99€
LED / UV Nageltrockner 72 W für 15,49€
Bei Amazon LED UV Nageltrockner für nur 15,49€ mit code Q2N7VHPU inkl. Versand
Professional LED UV lamp: with the advanced professional UV and LED double light, the soft light does not hurt eyes and skin and can be used 50,000 times.
【Save Time】Amorus professional UV nail lamp has 36 LEDs with power of 72 W, can dry semi-permanent paints quickly and save a lot of time.
Large touch screen: the UV nail lamp with touch screen with 4 timers (10s / 30s / 60s / 99s), with which the drying time can be set depending on LED or UV varnish. The 99s feature with reduced heat is designed for sensitive hands.
Easy to use: you just need to plug in, select the timer, enter your hand and the Amorus UV lamp starts automatically without having to set or press a button.
【Ergonomic Opening】Large opening for drying hands or toes, large enough to heal the whole hand or toes at the same time.