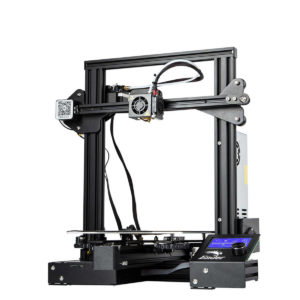 144,92€ 169,11€
Creality Ender-3 Pro 3D-Drucker (220x220x250mm, 1.75mm Filament)
Mit dem Code BGGERE3P bekommt ihr bei Banggood den Creality Ender-3 Pro 3D-Drucker mit 220x220x250mm Bauraum aus dem tschechischen Lager. 
[youtube=ttps://www.youtube.com/watch?v=86QbpjLUhAc]
 
●  What are the main differences between the Creality Ender 3 Pro and Creality Ender 3 ?
 ✯ Improving mechanical properties.Reduce friction and provide better dimensional stability.
 ✯ Improved extruder,reduce the risk of clogging and uneven extrusion.
 ✯ New magnetic printing surface,removable and flexible, which allows you to pluck prints off the build plate easily. 
● MK8 extruder
● Resume Print – Our upgraded control board offers state of the art, "Resume Print" technology. Should your printer suffer unexpected power outages, it will resume from the last recorded extruder position.
 ● High-precisions ball bearing wheels made from Delrin/POM engineering thermoplastic deliver high stiffness, low friction, and excellent dimensional stability helping to reduce noise levels greatly.
 
 ● Redesigned with a much more sturdy, 40×40 aluminum extrusion for the Yaxis base. This provides unprecedented stability for the printing surface, resulting in upgraded print quality.
 
● The magnetic bed:
Our all new state of the art"C-MAG"magnetic sticker, is completely removable, and flexible. The textured surface adheres to all types of filament better than traditional methods such as tape, glue, or hairspray.Once the model is finished printing, remove the magnetic upper from the lower and bend or flex the print surface to watch the model effortlessly popoff the printing surface.
 
● MeanWell Power Supply: A well-known company with over 30 years of experience in the power supply industry. Ensures safer and faster heating of all necessary components.
● Precisely Manufactured: High-precision CNC machining techniques used for all metal brackets and mounts, guarantees precise positioning and an all around more stable structure.
 
● Enhanced Bed Leveling: All new, ergonomically designed, larger bed leveling nuts, makes leveling the bed much easier and more precise.


Note: It is defaulted send EU standard plug. The printer can work for all over world. If you want,  just use with an adaptor.